PJ Hegarty are committed to delivering high quality construction projects that will help ensure a sustainable built environment for future generations.
As a leading Irish construction company, we have a responsibility to deliver projects and operate our business in response to the climate emergency facing our planet. PJ Hegarty, as a business, are conscious of the impact that construction projects have on the environment and local communities where we operate.
We have highlighted the following areas where we feel we can make a positive impact in regards to sustainability within the operation of our business.
Environment & Climate Action
We continuously strive to improve our environmental performance by taking reasonable steps to ensure our potential impacts on the environment are eliminated where possible. As a business we recognise the importance of monitoring and reducing our use of energy, fuel, water, waste and other emissions. We conduct project specific environmental assessments and develop project specific environmental management plans to ensure we mitigate potential environmental impacts.
We continuously work to reduce the amount of material sent to landfill. We also continuously look for innovative ways to reduce air pollution, water usage and waste.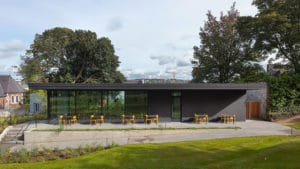 Procurement / Responsible Sourcing
PJ Hegarty are committed to a sustainable procurement model. This means making sure that the products and services we buy are as sustainable as possible with the lowest environmental impact and most positive social results. Our purchasing team has a variety of priorities when working to meet our needs for products, services and works.
These include a need to meet expectations on quality, value and programme for delivery. We also include sustainability-related aspects as part of these expectations, informing both what is being bought, and from whom and where it is being obtained. Our policy communicates to our people, supply chain, design partners and customers in a logical, clear and practical way.
PJ Hegarty will strive to use fewer resources and minimise carbon emissions associated with any goods, products and services we procure. We will aim to minimise waste and conserve resources including water, energy and materials. We will seek to minimise the use of materials with VOC's and hazardous content and promote alternatives with a lesser impact e.g. water-based finishes. This will assist us in reducing our environmental footprint across our business.
We work with supply chain partners who share our values and support us in working towards our goals. We have a zero-tolerance approach to slavery, bribery and corruption and engage with supply chain partners who replicate
our values in this regard. These objectives, in turn, send a signal to the wider economy by demanding more sustainable products, services and operations.  We expect our supply chain to share our values and to contribute to building our culture.
Innovation and Technology
Energy and material resources throughout the building's life cycle represent the key to controlling its impact. PJ Hegarty recognises that digitisation, automation and the increased use of Information and Communications Technology (ICT) will be central to enhancing the sustainability of new buildings.
We are committed to researching ways of improving the efficiency of our business and how we complete projects. Today we employ various types of innovation and technology to help us succeed in the delivery of projects such as smart energy monitoring, BIM and Aconex. We are investing in technology and systems which allow us to enhance the sustainability of our operations.  
Download our 14001:2015 Certificate