PJ Hegarty is thrilled to have taken away two awards at the prestigious Irish Construction Excellence Awards at the gala ceremony in the Convention Centre Dublin on Thursday 27th April. 
Fit Our or Refurbishment Over €30m Award
Our first award of the night was the 'Fit Our or Refurbishment Over €30m' award for refurbishing and developing the protected building, Tropical Fruit Warehouse.
This project was notable due to our approach to the off-site repair and refurbishment of all thirty original trusses from the 1890s, each spanning 14m and weighing over 1000kg. We also successfully undertook restoration work on the protected warehouse structure, salvaging materials such as natural slate, limestone rubble walls, and original brickwork for later reuse. The project included constructing a cantilevered steel structure above the warehouse and constructing a 5-storey reinforced concrete core in-situ to support the new frame.
Another notable accomplishment was the design and installation of a modern bespoke twin-skin glass facade, creating the illusion of a floating glass box above the warehouse. Overcoming additional challenges, such as piling in three phases, dealing with contaminated ground, dewatering a double-basement, and ensuring extreme tolerances and deflection control for the steel frame to accommodate the glass cladding, demonstrated our ability to negotiate complex hurdles successfully. Furthermore, we skillfully reinstated the warehouse roof beneath the newly constructed glass-clad structure.
We want to thank our client IPUT Real Estate and architects Henry J Lyons, sub-contractors, and supply chain for their support throughout this project, especially during the difficult periods we faced as an industry during the pandemic.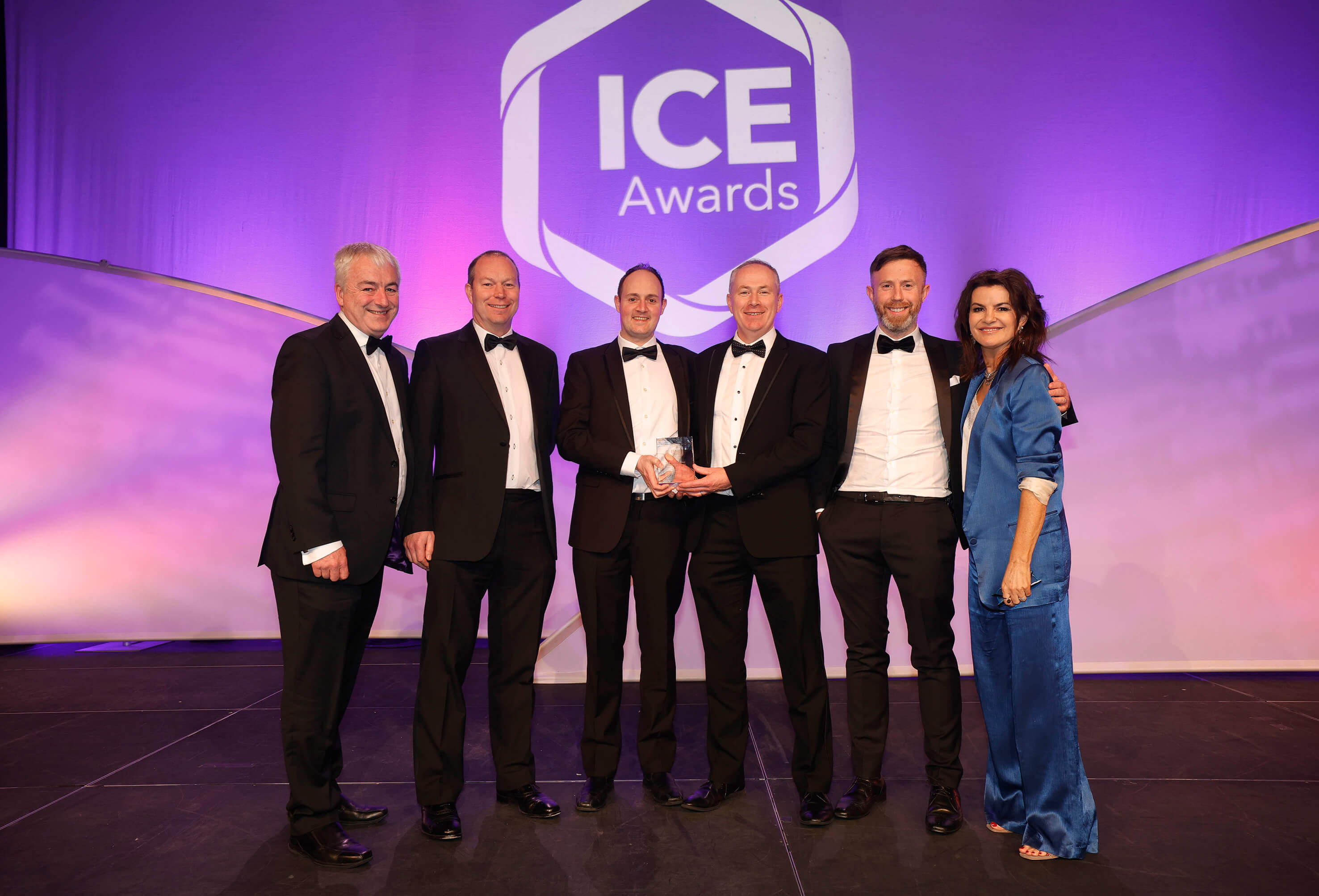 Brian Mooney, John Gavigan, Danny Rankin (Surety Bonds), Declan Kelly (IPUT), Eoin Flanagan (Henry J Lyons) & Deirdre O'Kane
Health, Safety & Wellbeing Initiative – T/O Over €200m Award
Our second award of the night was the 'Health, Safety & Wellbeing Initiative – T/O Over €200m' award for our "Don't Walk By" safety programme.
Our winning initiative, the "Don't Walk By" safety program, emphasises the practice of good daily safety habits by all our staff and site personnel. We have found that promoting safety through conversation is one of the most effective methods. Our initiative focuses on the practical aspects of having positive safety conversations. We understand that only some naturally feel comfortable addressing safety concerns, so we enlisted the help of external sources to coach and mentor our staff. These educational mentorship sessions provided valuable insights into coaching, hazard identification, and effective engagement with on-site personnel, resulting in positive outcomes.
Our initiative also aims to dispel misconceptions about addressing unsafe observations and build confidence to do so. Since implementing this program, we have seen a significant increase in safety interactions and observations. The feedback from our staff has been overwhelmingly positive, offering us valuable insights on how we can further support our team in taking ownership of safety.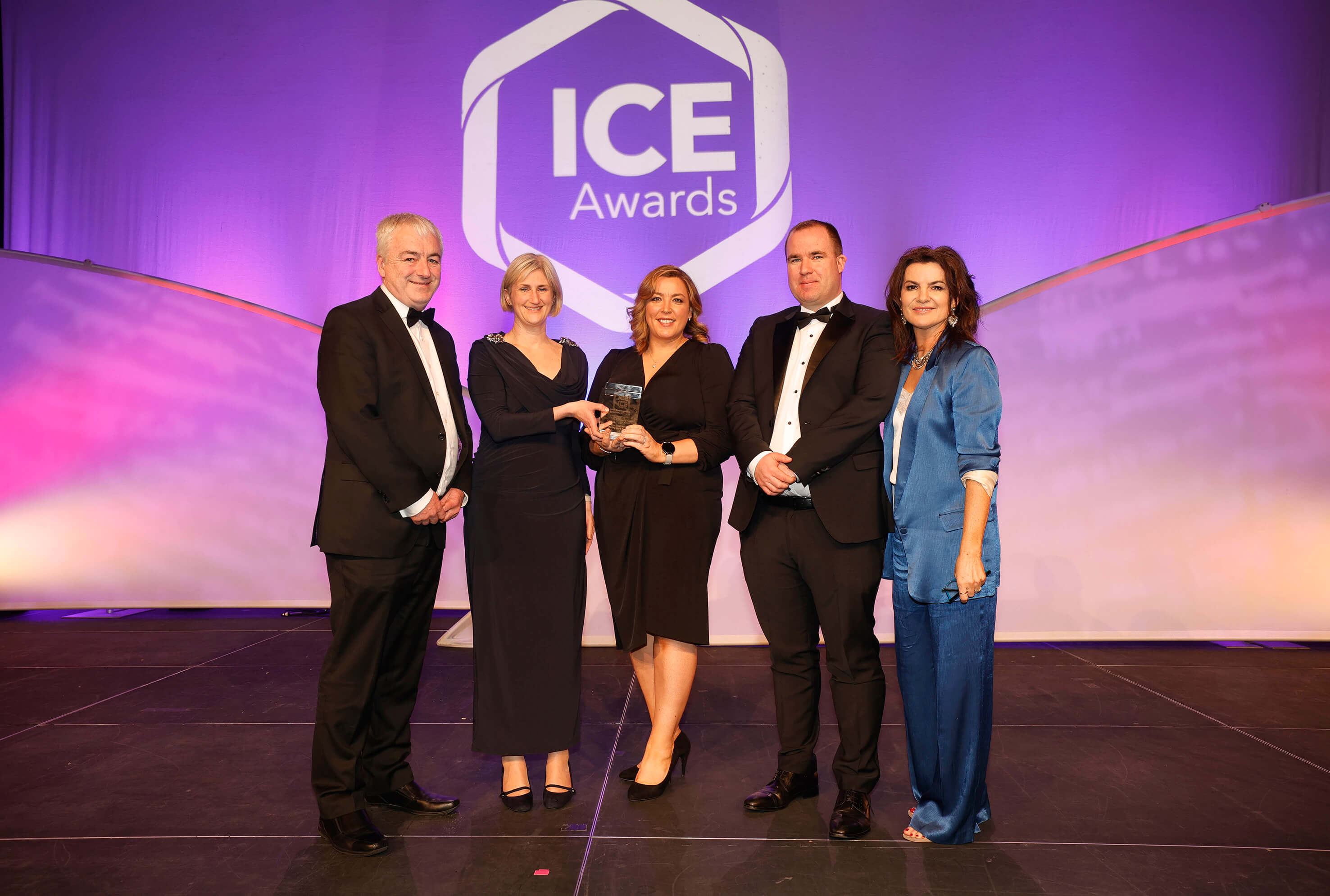 Brian Mooney, Karen Killoran (Arthur Cox LLP), Sinead Gaines, Shane McDonnell and Deirdre O'Kane
The Gala in the Convention Centre Dublin was an outstanding success. Our team and guests had a fantastic night, and hearing our name announced for both awards made it even more special.